Rose Segal sings to share with you an inner world filled with light and colour. She was raised in Oxfordshire in a household that her musical father filled with reggae and blues; Danny Segal was an exceptional self-taught blues guitarist, singer and songwriter, and frontman to several bands (The Bloodhounds, The Bluejays, Mojo Bones and later Danny and the Barebones) throughout Rose's childhood, which meant that both her and her younger brother Jack went on tour around Europe as children, and grew up watching him practice, busk and gig.

Band Baby to Singer Songwriter
At school Rose learned classical flute and violin, working her way up the grades. She started singing by accident, just around the house, but friends and family began to notice and encourage her, so for her 21st birthday she asked for a guitar so she could learn to accompany herself. Soon after that she began to write and sing her own music – which came as a surprise, because whilst learning classically she'd had a terrible fear of improvisation! But these songs flowed.

To get some live performance experience Rose and Jack started a covers band in the summer of 2013 and were soon joined by drummer friend Jamie Langford playing the Cajon. The trio called themselves The Suncats and played a cheerful mixture of high-energy covers in local pubs and on the streets of Oxford, following in Danny's busking tradition, and using a dubious little busking rig he'd made for them with a motorcycle battery and an interesting tangle of crocodile clips. At first Rose kept her own material separate and secret from the Suncat antics, as her songs were very different in tone, but as the band grew in confidence she revealed her songs little by little to the guys and they began playing and developing them.

Loss and New Beginnings
In 2015 The Suncats had to take a break, as Danny was diagnosed with cancer and the family turned all its focus inwards. He passed away a year later, an unspeakable loss to the world. For a while the concept of playing with a band again seemed alien and impossible to Rose, not only with the sadness and the loss of Danny as a guiding light to the family musicianship, but also as Jack had moved away to Swansea and Jamie to London whilst Rose was still in Oxfordshire. But the current of music is strong and finds its own way, and Rose soon found herself playing her original music, under her own name, with friends Jon Wright on the bass and John Gridley on drums. The new trio played all-original sets around the Oxford music scene, at venues such as The Wheatsheaf, The Jericho Tavern, The Bullingdon and the O2 Academy. Sometimes Jack would join them on the bass and then Jon could play guitar, leaving Rose to perform 'hands-free'! John Gridley's growing young family coincided with Jamie Langford becoming more available again, and by 2017 the band as we know it had solidified and was going from strength to strength around the local music venues and festivals.

In March 2018 they entered Shaken Oak Studios to record the debut EP Bring To Light with producer Arthur Young. The Oxfordshire barn-conversion studio instantly felt like home from home to the band, with its log fire and friendly in-house cats. This was Rose's first real experience of recording in a professional studio, and the intensity and creativity of the process took her by surprise, as the band spent hours in the control room lulled into hypnosis by each other's repeated takes, ideas for new parts and vocal harmonies came thick and fast, and Arthur's production skills brought a whole new dimension to the music even before mixing began.
The band took took the summer of 2018 off as Rose fell pregnant and felt too unwell to perform, but on December 15th they released the EP with a unique event at Shaken Oak Studios, where they made a stunning UV-paint music video for the song All The Colours, which has since been released. Rose already has plans to release a single in 2019, and ideas for a second EP.

Using the voices of everyone in the band to resonate with her own, over powerful bass and compelling beats, Rose's music is acoustic yet intense, with melodies both ethereal and uplifting. The lyrics are poetic, and at times otherworldly, linked by a gentle sense of being spiritually connected to the universe, and Rose shares them with you with healing intentions.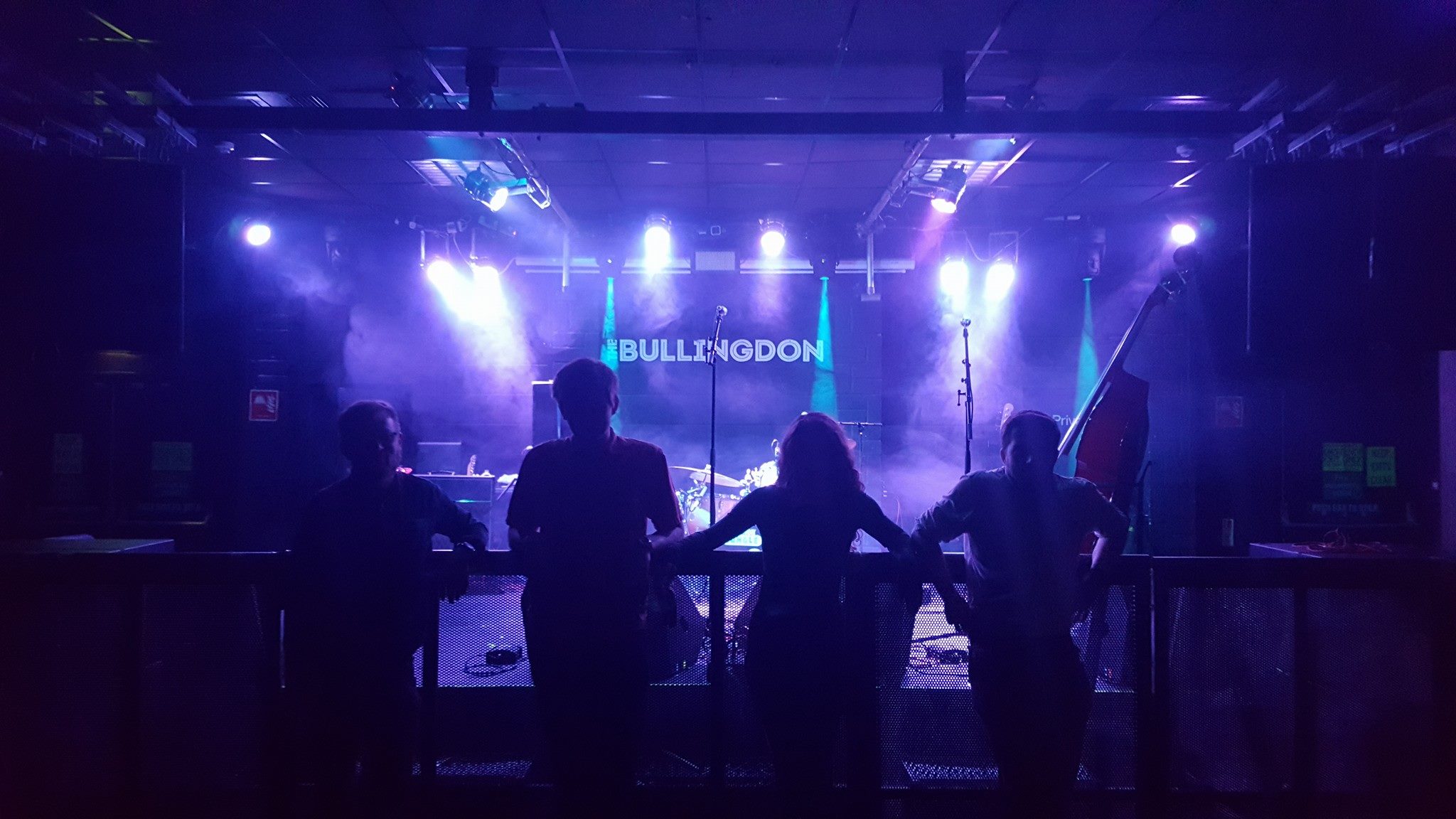 ---
I wish for a voice


as clear as a quivering chime piercing
iridescent through the air. As the eerie, brittle shimmer
of a wet finger tracing
the rim of a glass.
Pure as frost, diamond hard,
that shines through your eyelids and lingers,
ringing,
singing,
long after the note
and the breath
are gone."
---
It's good to note


the musical genes surfacing in Rose Segal and brother Jack, also here playing double bass, seeing as they are the offspring of the late, great Oxfordshire bluesman Danny Segal from the Mojo Bones.

Rose tenders a more English drawing room pop with her octave-vaulting trill, reminiscent of an All About Eve 'Martha Harbour' folk-gothic or Judie Tzuke in captivating 'All The Colours', while the upbeat tropic swing of 'Torrent or Shower' is ear-catching coda to an ever improving set."
---
Rose Segal's music


is intense and uplifting melodic acoustic, using the voices of the band to resonate with her own, backed by powerful bass and compelling beats."
- Alan D - Klub Kakofanny
---